Check In Curious, Check Out Inspired
The Study at University of Chicago reflects the spirit and energy on-campus—this is where culture takes shape, where meaningful connections are made, and where the leaders of today and tomorrow exchange ideas. As our guest, you'll have direct access to all the experiences that the neighborhood has to offer, making for a hotel stay unlike any other.
Celebrate the Collegiate Experience
The University of Chicago plays an important role at The Study—and it goes beyond fantastic campus views. Families of current students love staying with us because they get to be immersed in the energy on-campus. Convocation, move-in week, and alumni weekends are some of the liveliest times at our hotel.
Enrich Your Stay with Arts & Letters
We foster a deep connection to the university through unique features like our collection of books by university authors and rotating art exhibits.
Surrounded by Visionary Thinkers
To the west of The Study is the Rubenstein Forum, a state-of-the-art LEED Gold facility where great minds convene from all over the world. To the east is the newly renovated Keller Center, home to the Harris School of Public Policy.
Experience Icons of Architecture
The Study is expressly designed to stand in harmony with University of Chicago's iconic architecture. The guiding design principles set forth in the 1890s by architects, Henry Ives Cobb and Frederick Law Olmstead, are as alive today as they were hundreds of years ago.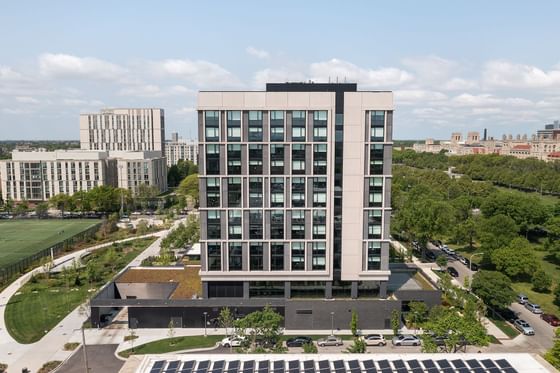 Echoes of the Past
Stone and other exterior elements of the building echo the silver-buff limestone that is found throughout the University of Chicago campus.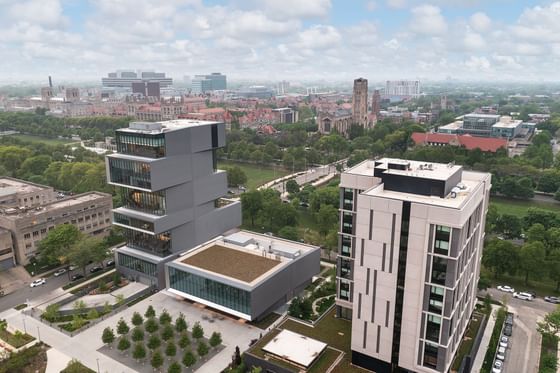 An Integral Part of the Future
Playing off the modern design of the neighboring David Rubenstein Forum and the stateliness of the Keller Center, The Study makes a sophisticated yet dynamic addition to the campus landscape.
Embrace the Power of Community
As part of the revitalization of the Midway Plaisance, The Study at University of Chicago is expressly designed to feel connected to the neighborhood. The architecture brings the outdoors in, flooding interiors with natural light. In much the same way, The Study invites the community in through events tailored to locals.
Collaborations with Local Charities
We make it a priority to be an active contributor to the neighborhood and have partnered with organizations like My Very Own Library to help provide access to books and learning resources for students in public elementary schools.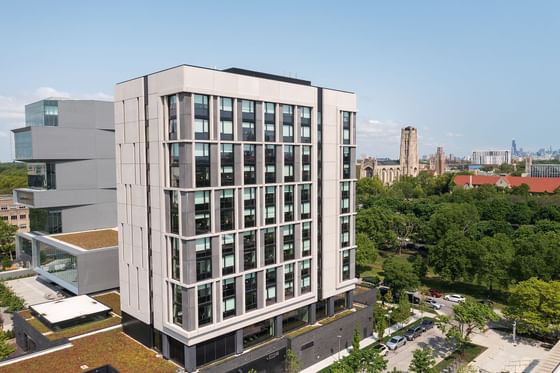 Explore Nearby
The Study is bordered by the green space of the Midway Plaisance and just steps from the future Obama Presidential Center. We encourage our guests to visit local sights like the Museum of Science and Industry, Logan Center Exhibitions, Smart Museum of Art.